A deep-dive into the APA style guide, how it differs from other guides, and when to hire an APA editor
This article explains what an APA style guide is, when and why you need it, when you should consider hiring an APA editor, and what to look for if you choose to hire an editor. This article also compares the APA style guide with other guides you may encounter.
We spend the majority of our academic years consuming the findings and research of others. Your dissertation marks a pivot to becoming an information producer. Your research may impact the decisions of others and future research in your area of expertise. Congratulations on this pivot from consumer to producer.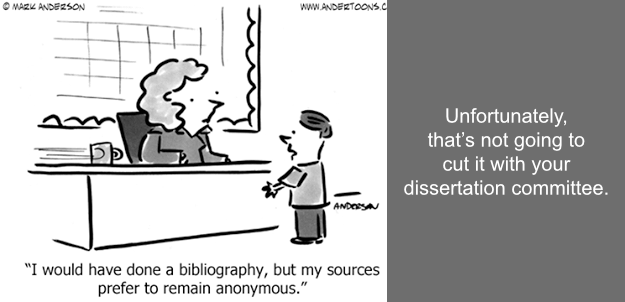 Image source: Andertoons.com
What is a "style"?
A style is simply a set of rules for writing. Style rules vary according to audience. Many organizations create their own style guides. For example, the U.S. Government Printing Office Style Manual sets standards for government documents. Some professions use style guides created by others. For example, journalists use the Associated Press Stylebook or the BBC News Style Guide. Microsoft and Apple have their own style guides that others can follow when writing about products sold by those respective companies.
Academic style guides show scholars how to write and format their scholarly dissertations, theses, journal articles, and research papers.
Some style guides offer deep and very specific guidance about every nuance of your paper. These guides can define fine details like the title page layout, distance of the header from the margin, placement of page numbers, or rules on hyphenating prefixes. Other style guides focus on just one aspect of writing, such as how to format legal citations.
For example, any copy editor with an English degree can make your writing grammatically correct. But, will they ensure facts are adequately presented to back your analysis? Will they ensure your sources are cited? Will they guarantee your paper follows the dissertation structure: abstract, acknowledgments, table of contents, introduction, discussion, analysis, findings and conclusion, references, and appendices? Will they understand the intent of each section of the paper and make sure your content supports the intent? Will they ensure your document is a pleasure to read and something you can be proud to present?
The purpose of a style guide
Style is a big deal in academia. By the time you get to graduate school, you have most likely written many papers. Odds are, somewhere in your graduate school experience, you have been told your writing needs to follow a particular "style."
No matter how you feel about rules, scholarly writing is one instance where you absolutely need to uncover the rules for academic writing at your institution and follow them. Most universities choose a style guide for the entire institution. Others leave the choice of style guide up to the school or the department.
Here are a few reasons why you need a style:
Following style guidelines helps your readers understand your argument. Having a uniform style helps readers (and reviewers) find and follow the main points of your paper. Making it easy for readers to follow your argument means you may be more likely to persuade them to take action in your favor (such as approving your proposal or manuscript).
Following style guidelines helps your professors give you credit for your work. Many higher educational institutions require students to follow a specific style. Papers that depart from the prescribed style may be rejected for lack of compliance with style guidelines.
Following style guidelines can help you avoid plagiarism. As scholarly writers, we are expected to give credit to the work of previous authors. Giving credit involves citing the source of each paraphrased idea, quote, table, or figure and providing detailed information about each source in a list of references.
One very important element in any style is the format of in-text citations and list of sources (references). Each style guide may use a slightly different format. By following your university's style guide, you are communicating to the reader and your dissertation committee about your desire to avoid plagiarism.
Most reputable universities have strict citation policies to motivate students to avoid the risk of plagiarism, which can carry severe academic and professional consequences.
In addition, citing one's sources allows readers to look up your sources for more information and further reading.
Where do I get a style?
If you are in a graduate school program, most departments will not allow you to choose your preference of style guide. It is your responsibility to find out what style guidelines apply to your particular field at your institution. Do this before you start writing so you can plan your document accordingly.
Just like you, your advisor, chairperson, and committee members are required to follow the institutional style guidelines. However, there is always room for interpretation. If you find that you and your reviewers differ on the interpretation of a style rule, you have two choices: acquiesce to your reviewers or be ready to support your interpretation with page numbers or paragraph numbers from the style guide.
Popular style guides
Introduction to the APA style guide
APA style is the most common guide for academic writing in the social and behavioral sciences disciplines. In addition, many academic journals require APA style for submissions.
The manual is published by the American Psychological Association. The official name of the style guide is Publication Manual of the American Psychology Association, but it is commonly known as the APA style manual, or just "APA." The manual was updated in 2020 to the 7th edition.
Writing. The APA style manual offers specific guidance on almost any topic writers encounter, including the basics of how to punctuate and capitalize, when to italicize, when to abbreviate, and how to use commas, colons, and brackets. Writers will also find examples of properly formatted tables, figures, and captions. The 2020 edition includes new guidance specifically for authors of theses and dissertations.
Format. APA guidelines include recommendations for font style and size (any legible, widely available font is acceptable), line spacing (double-space everything with the exception of content in tables and figures, footnotes, and equations), paragraph indentation (first line, one-half inch), and pagination (sequentially, placed in the upper-right corner with or without a running head, depending on your institution's requirements).
Citations and references. APA uses a parenthetical author-date format to cite sources in the text and a corresponding list of references placed at the end of the body of the paper. The APA manual offers clear examples of how to cite virtually any source, from journal articles and books to legal references and online videos. The 2020 edition now allows works with three or more authors to be written with et al. in every citation.
The APA style manual is available from most bookstores and can be ordered online from multiple vendors. At this time, there is no Web version of the manual, although APA maintains a searchable blog written by APA experts who answer questions posed by scholars, students, and other writers.
APA resources
Differences between popular style guides
Style guides differ in their handling of many aspects of writing and formatting, including spelling and punctuation. The main concerns for scholarly writers involve citation and reference list formats.
Spelling. The style guides have a few differences in terms of spelling, particularly with regard to numbers. APA style requires writers to spell out numbers in letters if they are below 10 or if they begin a sentence. Numbers 10 and above are written numerically. For example, "The researchers tested a sample of 22 children using two versions of the test instrument." CMS and Turabian, on the other hand, require that most numbers be written out rather than presented numerically (e.g., one, ten, twelve, twenty, one hundred sixty-two, two thousand, 2,341, 199,452).
Punctuation. Most academic style guides and publishers use the Oxford (serial) comma (e.g., "The researchers offered the children red, blue, and green pencils." In contrast, journalistic style guides do not use the Oxford comma (e.g., "The researchers offered the children red, blue and green pencils"). Placement of commas and periods in relation to quotation marks (inside or outside) depends on geographical location (American English or United Kingdom English), rather than on style guidelines.
Number of spaces between sentences. A big change starting with the 7th edition is that APA prefers one space after terminal punctuation. Many institutions and departments, however, still prefer writers use two spaces. Always confirm with your institution on its preference. In some cases, the writer can choose in which case it is important to be consistent in your use of punctuation and spacing throughout your document.
Citation format. An important area where style guides differ is in the treatment of citations. Some style guides use footnotes or end notes, for example, Chicago/Turabian and Bluebook styles, rather than in-text citations (sometimes called the author-date referencing style, typical in APA, MLA, and Harvard style). Table 1 below shows examples of subtle differences between citation formats in APA, CMS/Turabian (author-date format), MLA, Harvard, and Bluebook styles.
Keep in mind that the purpose of a citation is to give your reader the means to locate the sources providing the support for the thoughts, claims, quotes, images, or models that you use in your paper. It's important to format your citations correctly; however, it is more important that you cite your sources, no matter what format you use. Failing to cite your sources places you at risk of plagiarism, which can have serious consequences.
Reference list format. Style guides also differ somewhat in the content and format of the list of references. Apart from the name of the list itself (APA: "References"; MLA: "Works Cited"; CMS/Turabian: "Bibliography" or "References," depending on the CMS citation style chosen), lists are formatted differently. Some are listed in alphabetical order; others are numbered and appear in the order in which the sources are cited in the paper. Many sources will include a URL.
Remember, the purpose of the list of references is to provide enough information so your reader can look up the source to find out more about it. Before you submit your paper, make sure all your URLs are accurate, current, and reasonably accessible to a scholarly audience.
The format of a typical entry for a source from a book is shown in Table 2 for APA, CMS/Turabian (both author-date and footnote/endnote formats), MLA, Harvard, and Bluebook styles. APA's preferred format for DOIs and URLs has been updated for the 7th edition in 2020.
Heading levels and formats. APA 7th edition in 2020 has been updated with revisions to the five possible heading levels used in APA-style documents.
How APA may differ from your university's dissertation handbook
Authors of the APA style guide wrote the guide for writers of journal articles. In the 2020 edition, they recognized that authors of theses and dissertations have different requirements. However, your institutional style guidelines may differ from strict APA style guidelines.
Here are examples of differences between APA style and institutional style:
APA guidelines require the page number appear in the upper-right corner throughout the entire document. However, many institutional style guides require page numbers to be centered at the bottom of the page for the front matter of the document (abstract, acknowledgments, table of contents, lists of tables, etc.) and then moved to the upper right corner for the remainder of the document. Some institutional guides require the page number to appear at bottom center for the entire document.
Margins in APA style are set at one inch all around. However, many institutions increase the width of the left margin to allow for binding.
APA requires double-spacing throughout the document, including figure captions, table titles, footnotes, and the list of references. The only exception is within figures and tables, which can use single-spacing to improve readability. Many institutions, on the other hand, prefer single-spacing for footnotes, figure captions, table titles, and the list of references. Entries in the list of references are often single-spaced, with one blank line between entries.
Block quotes (40 or more words) should be double-spaced in APA style, but many institutions require block quotes to be single-spaced with one blank line above and below the text block.
APA still allows five levels of headings, but they have been revised for the 2020 edition. Some institutions require dissertation chapter titles to be Level 1 headings. Others consider chapter titles Level 0 headings.
Institutional guidelines may deviate from APA style for a number of reasons. One common reason is simply readability: a block quote can be easier to read when it is single-spaced. Similarly, double-spaced reference lists take up much less space when they are single-spaced. In the case of the location of page numbers, some institutions require that all text, including page numbers, be placed inside the margins to meet printing and publishing requirements. Some of the differences can be attributed to institutional style preferences, for example, the formatting of title pages and headings.
Your institutional and departmental guidelines take precedence over the style guide. Refer to your institution's dissertation handbook to learn the differences between institution style and the preferred style guide. As a rule, the guidelines of the entity that will approve or publish your writing always take precedence.
Purchase your own copy of the style guide and study it closely. In most instances, your institution, department, chairperson, and committee members have final say over style. However, not all reviewers are familiar with the nuances of APA guidelines. You may be required to cite page numbers to defend your style and format choices.
What can I expect from an APA editor?
Professional editors should always proofread and copy edit. Know the difference between the two and always choose an editor who does both.
Besides editing for grammar, spelling, punctuation, structure, and overall readability, in terms of style, an editor can:
Check that your work complies with your institutional style guidelines and the guidelines of your institution's preferred style manual
Set up your Word document with appropriate heading levels (using Word styles) to generate an accurate Table of Contents
Add numbered table titles and figure captions and generate accurate lists of tables and figures
Set section breaks where needed to differentiate front matter from the body of your paper
Set section breaks to separate landscape orientation pages from portrait orientation pages
Ensure page numbers are in the correct locations and formats
Set proper line spacing and paragraph indentation
Remove extra spaces and tabs
Set up customized Word styles to handle block quotations and other text artifacts according to your style guidelines
Format figures and tables to comply with style guidelines
Should I hire an editor or do it myself?
Whether you hire an editor to help with style and formatting depends on your working style, your resource constraints, and the feedback you are receiving from the gatekeepers (i.e., advisors, chairperson, or committee).
Think about the following questions when deciding whether to engage editing yourself or hiring a professional editor:
What is your preferred working style, and what type of mindset do you have?
Are you a hands-on person?
Are you a detail-oriented person?
Are you a big-picture strategist?
Some people love learning the rules because it gives them a sense of control. Others prefer to leave the details to others because that gives them a sense of freedom and allows focus on the big picture. Determine what type of person you are and whether you have the capacity or desire to learn a style guide.
How much time do you have?
Do you have time to learn the style guidelines?
Do you have the desire to learn about the details?
Do you feel you are more productive by focusing your time and energy on writing or researching?
If you have time, you should study the style manual to at least have a passing familiarity with it. This is true even if you don't have the time or inclination to study it in depth.
If you are really under a time crunch, it's time to call a professional editor.
What kind of feedback are you getting from your advisor/chairperson/committee members?
Is your advisory team indicating that your paper's style and format are acceptable?
Is your advisory team telling you to hire an editor to clean up your format?
Is the feedback by your advisory committee in your paper primarily content-focused or grammar, syntax, and formatting focused?
Some scholars have language barriers. Others don't possess expert writing skills. Even strong writers can benefit from an objective editor. If your committee members think you need help from an editor, get help. Don't let a fixable problem balloon into a roadblock for getting your paper approved or on to the next stage.
Our dissertation process
Our editing service employs experts with the APA style guide. Here's what our process looks like..
Email us a draft of your dissertation.
We will review your paper and provide an estimate of time and cost. Your writing style is a major factor in determining the time required and types of edits we will need to make. Beware of estimates from other services that give you a per-word quote without reviewing your entire dissertation.
If you decide to proceed with Gramlee, we will email an invoice that you can pay online using Credit Card or PayPal.
We will begin editing and aim to send you a revised version of the first 10,000 words in 48 hours. We want your feedback about our editing approach with your paper. Doing this early allows us to adjust our strategy if needed. This transparency also gives you a window into our editing process.
The senior editor will complete their edits and email you a final revised dissertation. We use the Track Changes feature in Microsoft Word so you can see every change and comment.
You will always have access to our editors afterwards in case you have questions.
Our editors can manage up to 10,000 words per day. Experience shows us that exceeding this threshold leads to editing fatigue and deterioration in quality. Yes, you guessed right: services that promise lightening-fast edits are in business to maximize profits over a quality final product that you will be proud of.
To get started, please email us with your paper attached. We will give you an estimate within twelve (12) hours. Please mention code APAEDIT in your email to get a 10% discount. It's our way of saying "thank you" for reading this article.
Table 1. EXAMPLE OF DIFFERENCES WITH IN-TEXT CITATION STYLES FOR A BOOK



APA

Chicago/Turabian
(author-date style)

MLA

Harvard*

Bluebook

One author

Smith (2015)

(Smith, 2015)

"quote" (Smith, 2015, p. 76)

Smith (2015)

(Smith 2015)

"quote" (Smith 2015, 76)

Smith (76)

(Smith 76)

Smith (2015)

(Smith, 2015)

quote" (Smith, 2015, p. 76)

Bluebook style usually incorporates the citations into the text: See Lehman, 418 U.S. at 307 (1974).

Two authors

Smith and Jones (2015)

(Smith & Jones, 2015)

"quote" (Smith & Jones, p. 5)

Smith and Jones (2015)

(Smith and Jones 2015)

"quote" (Smith and Jones 2015, 5)




Smith and Jones (5)

(Smith and Jones 5)

Smith and Jones (2015)

(Smith and Jones, 2015)

"quote" (Smith and Jones, 2015, p.5)

See H. Roger Grant & Charles H. Bohi, The Country Railroad Station in America 8-9 (1978).

Multiple authors

Smith et al. (2015)

(Smith et al., 2015)

"quote" (Smith et al., 2015, p. 8)

For three or more authors:
(Smith et al., 2015, p. 8)

Note: APA 7th Ed in 2020 requires "et al." to be used when there are three or more authors even on first menton.

Smith, Jones, and Tsu (2015)

(Smith, Jones, and Tsu 2015)

"quote" (Smith, Jones, and Tsu 2015, 8)

For four or more authors:

(Smith et al. 2015, 8)




Smith, Jones, and Tsu (8)

(Smith, Jones, and Tsu 8)




Smith, Jones, and Tsu (2015)

(Smith, Jones, and Tsu, 2015)

"quote" (Smith, Jones, and Tsu, 2015, p.8)

For four or more authors:

"quote" (Smith et al., p.8)

See H. Roger Grant, Charles H. Bohi, & R. Smith, The Navy 15-22 (2002).
Table 2. EXAMPLES OF DIFFERENCES WITH FOOTNOTE AND/OR REFERENCE LIST STYLES FOR A BOOK
APA

REFERENCES:

Shotton, M. A. (1989). Computer addiction? A study of computer dependency. London, England: Taylor & Francis.

CMS/Turabian-author date format

REFERENCES:

Shotton, Michael A. 1989. Computer Addiction? A Study of Computer Dependency. London, England: Taylor & Francis.

CMS/Turabian-footnote/endnote format

Footnote/endnote:

1Michael Allen Shotton. Computer Addiction? A Study of Computer Dependency (London, England: Taylor & Francis, 1989), 24-25.

BIBLIOGRAPHY:

Shotton, Michael Allen. Computer Addiction? A Study of Computer Dependency. London, England: Taylor & Francis, 1989.

MLA

WORKS CITED:

Shotton, M.A. Computer Addiction? A study of Computer Dependency. London, England: Taylor & Francis, 1989. Print.

Harvard*

BIBLIOGRAPHY:

SHOTTON, M. A. (1989). Computer addiction? A study of computer dependency. London, England: Taylor & Francis.

Bluebook

Footnote/endnote:

1Michael Allen Shotton. Computer Addiction? A Study of Computer Dependency 24 (1989).

BIBLIOGRAPHY:

Michael A. Shotton, Computer Addiction? A Study of Computer Dependency (Taylor & Francis 1989).
In addition to APA editing, here's a list of other areas we edit for
Gramlee guarantees your paper will not be rejected for reasons related to structure, writing, documentation, or linguistic professionalism. Here is a list of things we edit for:
Grammar

Spelling
Punctuation
Subject/verb agreements
Tense consistency

Stylistic elements

Word or phrase redundancy
Wordiness
Active versus passive voice
Brevity and eliminating sentences that add no value

Tone and cultural sensitivity

Keeps locale and subject matter in mind
Ensures your writing does not invade political and cultural sensitivities

Diction and appropriate language for your subject and audience
Organization

Sentence structure
Proper use of paragraphs
Logical layout and sequence of paragraphs
Table of Contents, List of Figures/Charts/Tables, Abstract

Documentation and citations

Ensure that you credit others' ideas and do not accidentally present as your own
Proper format for citations

American English or British English (we can edit for either)
Overall flow and readability of the dissertation
I saved months on the editing process of my dissertation. They are an exceptional editing service that is current with APA and academic dissertation standards. I highly recommend Gramlee to any doctoral student.
I know my dissertation wasn't easy to edit. You were consistent and sharp. My voice is preserved, and my research is now clearer and more presentable. I have a deep appreciation for you!
The work was perfect. The staff really cared about me and my paper. They took the time to contact me with any questions and wanted to make sure I was happy. I have bookmarked Gramlee for my future editing needs.
After 10 months and numerous revisions by other companies, Gramlee's editors were able to get me to the next step in my doctoral study process within 48 hours! First-class service.
The editor's notes and suggestions were very comprehensive and constructive. Your company clearly stated what I could and could not expect from an editing service. Thank you for your services.
The edits really helped with clarity and accuracy. The comments were both helpful and encouraging. Thank you for all your help!
To get an estimate of time and costs to edit your dissertation, please email us with your paper attached. We will give you an estimate within twelve (12) hours.